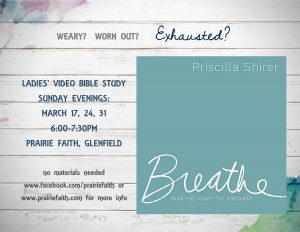 We are excited to be sharing another teaching by Priscilla Shirer! Meeting three evenings, we will watch a video teaching (or two) and have discussion afterwards. This is such a relevant topic and we hope it will speak refreshment into everyone's hectic life!
As of now, we do not plan on providing childcare. However, we will play a kids' movie in another room for any kids that tag along and will sit through a movie. We don't want childcare to be a barrier to prevent anyone from coming, though, so if you'd love to come but can't find someone to watch your littles, please don't hesitate to let us know and we'll see if we can figure something out!
There are actually five videos we will be watching, but in three nights. Here are the titles:
Night 1: The Freedom of Sabbath and Stops Along the Sabbath Journey
Night 2: Double-Portion Friday
Night 3: Coming Into Focus and Sabbath Margin
We hope to see you on March 17th at 6pm!